Wind Mitigation in Broward County, Palm Beach County & Martin County
Competitive Pricing!
---
*Each inspection is performed personally. Contact us for exact pricing.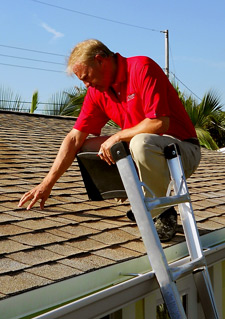 What Is Wind Mitigation?
Wind mitigation is the use of particular building techniques in order to limit damage caused by intense wind, specifically hurricanes.
Understanding Wind Mitigation or Wind Insurance:
Following Hurricane Andrew, Florida passed a law requiring insurance companies to offer their customers discounts and credits for existing building feature and home improvements that reduce damage and loss from wind. In order to qualify for this discount, homes must undergo a certified home wind inspection. However, many Floridians do not know or understand this law. In 2006, after Florida had its share of hurricanes, Citizens Insurance, a large property insurer in Florida, requested a 45% rate increase for wind insurance. Of course, other insurers followed. In Florida, the wind damage portion of homeowner's premium can be up to 70% of the total, depending on location of your home. Having windstorm insurance, you can avoid costly deductibles and reduce your premium. Deductibles can exceed $20,000 for homes in hurricane-prone areas, which means that the damage to your home could be less than your deductible. If proper wind mitigation techniques have been implemented, these expenses can be reduced dramatically. If you live in Broward County, Palm Beach County, Miami Dade or any of the surrounding area, please contact us for valuable information.
Wind Mitigation Inspection Features That Will Get You Insurance Credits:
Roof Covering: Coverings using shingles that meet the Florida Building Code "FBC" requirements. Common types include shingles, metal, clay tile, concrete tile and built-up tar & gravel.
Roof Deck Attachments: Insurance claim data indicates, a house becomes a major loss once the roof deck fails, even partially. Common roof decking types are plywood and OSB. The most important feature of the roof deck by far is the attachment to the framing or trusses (using 8d nails and close spacing) versus the decking thickness. The method used to connect the roof decking (plywood, metal panels, etc.) to the roof trusses or rafters.
Roof-to-Wall Attachment: Hurricane clips or straps, a critical method used to hold the roof structure (trusses or rafters) to the walls. This connection acts to transfer the uplift loads into the vertical walls due to the large negative pressures on the roof.
Secondary Water Resistance: This is a layer of protection that shields the home in the event that the roof covering fails and reduce leakage if the shingles are blown off. A secondary water barrier is relatively rare in most homes. There are two common types: a sticky material which is applied to the exterior of all joints of the roof decking and a foam seal which is sprayed onto the underside of the decking to prevent water from intruding into the home.
Opening Protection: Wind-borne debris protection devices installed to protect structure openings (windows, skylights, doors, etc.).
Roof Shape: Refers to the geometry of the roof structure. Common roof shapes include hip, gable or flat. The end-walls of gable roofs extend vertically to the sloping roofline. These gable end-walls, if not properly built or braced, have been known to fail outward due to the negative suctions on the wall. Field testing has shown that hip roofs receive up to 40% less pressure from wind than gable roofs.
Mortgage companies in Florida require homeowners to carry windstorm insurance in order to be approved for a mortgage. Insurers may not provide windstorm insurance to homes that are susceptible to wind damage.
Call to schedule your insurance inspection today and start saving some money!
More Information
Windstorm Mitigation Booklet
http://www.floridadisaster.org/
National Hurricane Center
http://www.nhc.noaa.gov/
Florida Division of Emergency Management
http://www.floridadisaster.org/
Wind MitigationJohn Posiviata2015